Water pollution comes in various forms and from various sources. Sometimes it comes from a single point source, such as a pipe, Waste Water Treatment Works or factory. Other times it arises from multiple sources of diffuse pollution, which are more varied and that are spread across the landscape.
Water quality is under threat from different types of diffuse pollution, including; contaminated runoff in rural and urban areas, poorly maintained septic tanks, incorrect plumbing in homes and businesses, and increased rainfall which can result in overwhelmed sewage systems.
We're constantly carrying out work to improve water quality across South Cumbria. Here at SCRT, we are working hard to ensure water quality is taken seriously and improvements are made on the ground; as a delivery organisation, we ensure targeted and direct improvements are being made. We are: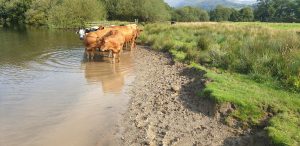 Advising landowners and farmers in ways to improve agricultural practices, to address chemical use, surface run-off and the erosion of s

oil

Raising awareness and educating the public about water quality

We have produced septic tank guidance for homeowners and businesses to encourage good practice septic tank maintenance. 

We are trialing phosphate removal chambers at certain sites locally to test the viability of this innovative technology and it's potential use on septic tanks in the future.

Restoring natural features such as reedbeds and woodlands, that act as natural pollutant filters.

We continue to control invasive species that can cause increased nutrients and sedimentation in watercourses.

Funding dependent, we monitor, sample and test specific sites for nutrients and analyse the effects.
See our project pages to see what more we are doing to help improve water quality.
---
BUT, WHAT CAN YOU DO?
Firstly, we have to remember that water pollution takes various forms including chemical, agricultural run-off, sewage, septic tanks etc which when combined have a debilitating effect on water quality through nutrient loading. One of the main nutrients produced through diffuse pollution including run-off, septic tanks and sewage is phosphate, which causes increased algal growth. This can lead to an increase in algal blooms and Cyanobacteria which consume oxygen from the water. Cyanobacteria i.e. blue-green algae, can sometimes be toxic, effecting human and animal health.
Climate change is also compounding this effect through rising temperatures further increasing algal blooms.
The problem is great but local action is and can be taken and this is where you come in.
Here are some small things that you can do to make a big difference.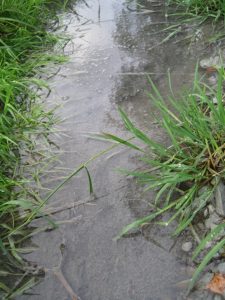 ♦ The three p's – only paper, pee and poo down the loo
♦ Reduce the amount of oils, grease and fats that go down your sink
♦ Address any misconnections in your home
  ♦ Maintain your septic tank, if you have one – See our good practice guide for septic tank maintenance
♦ Reduce the amount of rainfall that gets into the sewerage network
There is further information about Water Pollution in our FAQs document
---
WANT TO DO MORE?
More and more people are realising what pressures our rivers and lakes are under. If you feel you can do more;
TAKE ACTION
♦

Use our new

Water Quality Map

to record pollution incidents. This system will give everyone an opportunity to record and highlight problem areas and it will be visible for all. As Catchment Hosts we will take this information to the local Catchment Partnership quarterly and begin to make targeted improvements to pollution hotspots.
◊ Notice an algal bloom?

Use the CEH Bloomin' Algae app to record your sighting.
♦ Bathing Water Status

–

You can apply to get your local watercourse

Bathing Water Status. 
   * Join Matt Staniek in his goal to make Lake Windermere, the River Brathay and River Rothay designated as bathing sites; Petition
SUPPORT US
DONATE –
With your donations we will be able to fund our work to improve water quality in South Cumbria.
VOLUNTEER –
Why not volunteer with us? We run a range of events and activities aimed at improving water quality. See our events pages for more information or get in contact.
FUNDRAISE

 –

Support SCRT by fundraising for us. You can directly support the improvements to your local rivers/lakes.
We are a small independent charity committed to protect, conserve, monitor and where possible, rehabilitate the aquatic environments of South Cumbria. See what we have achieved since our inception in 2006; Catchment Map. Without support we would not be able to continue the work we do on a daily basis to ensure the protection of the flora, fauna and wildlife as well as the habitats and restoration of our rivers and lakes.