Our Area
The area covered by South Cumbria Rivers Trust compromises 2300 km of watercourse and 28km2 of still water and includes all catchments that drain off the Lake District fells into Morecambe Bay. These are:
2 major catchments, the Kent and the Leven (including Windermere)

3 medium ones, the Bela, the Crake (including Coniston Water) and the Duddon

12 other minor catchments that enter the sea separately that have their own runs of Salmon and Sea Trout.
Our area has a particularly high environmental and landscape value which is reflected in the number of designated areas:
Two thirds of the area is within the Lake District National Park.

An Area of Outstanding Natural Beauty (AONB) on the southern shore of the Kent Estuary (Arnside and Silverdale).

Morecambe Bay is of international nature conservation importance for waterfowl and is designated a Special Protection Area, marine Special Area of Conservation and Ramsar site, as well as being a Site of Special Scientific Interest (SSSI).

It contains eight other Special Areas of Conservation (SAC), 79 Sites of Special Scientific Interest and many Sites of importance of Nature Conservation (SNC).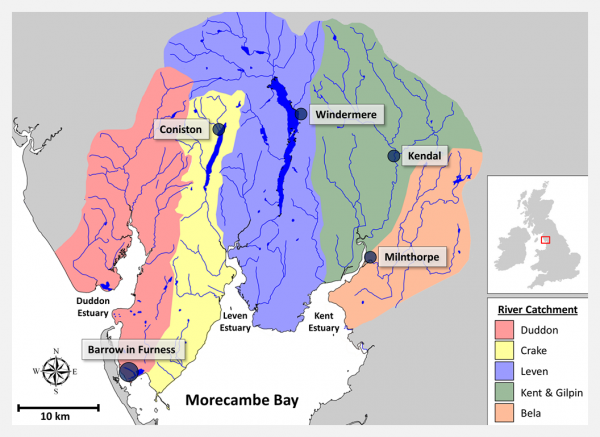 Because our area is so large and diverse, we need a mechanism to motivate, to build relationships and to take action at a local level. These are the local River Associations.
Each Association carries out invaluable work including carrying out habitat surveys, obtaining landowner consents, identifying and removing invasive non-native species, controlling exploitation levels, compiling catchment returns to supplement EA returns and much more. Local contacts, knowledge and responsibility are crucial to the work we do.
Not all of our catchments currently have a river association but it is to have five river associations across our five catchments that make local decisions and drive local action.
River catchment and current Associations: