The River Kent is a beautiful, highly designated river; it is a Site of Special Scientific Interest at a national level and a Special Area of Conservation at an international level. The reasons for its designations are in recognition of the highly valued habitat and species which it supports.
The Kent is one of the best, if not the best, river system in the world for the native white clawed crayfish, and we think this is fantastic!
It also has a rich industrial heritage particularly around the wool trade, and much of what we see today has been shaped by our ancestors. For example, have you ever looked at some of the names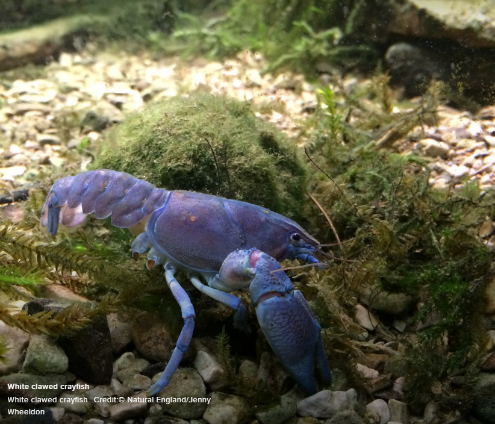 of the yards in Kendal and how they provide a link to some of our past? Whilst we recognise and celebrate its history we are also looking for new ways to incorporate this and move forward in the future.
The Kent Catchment Partnership (KCP) is a group of enthusiastic volunteers who first got together in 2015. The group volunteers through-out the catchment to engage with local communities to further the recognition of this river as something truly special. They also address a number of issues and pressures which threaten the health of this system including invasive non-native species, barriers to fish migration, poor land management, a lack of riparian habitat and pollution from diffuse sources (e.g. septic tanks and agriculture). As you can see the pressures are wide ranging, so there's plenty to do!
In light of this the Kent Catchment Partnership alongside South Cumbria Rivers Trust are working to develop a catchment wide project to which the community are central. It will celebrate this beautiful river, engaging people in a range of different aspects including heritage and arts. Alongside this a range of habitat improvement works will be developed and undertaken to further enhance the catchment. More information can be found on Becks to Bay (South Cumbria's Catchment Partnership) webpages.
Typical work undertaken by the partnership includes:
Tree Planting

Invasive Species Control

Riverfly Surveys

Electrofishing Surveys

Shows and Events
If you would like to be involved or support the partnership, please get in touch by e-mailing; admin@scrt.co.uk