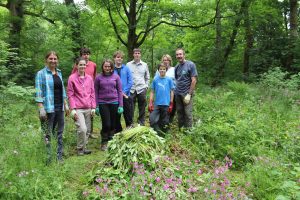 The Balsam Bashes are now well under way and a huge thank you to all the volunteers who have already been involved.
Information about the upcoming events are below. Please, click here if you want to see further dates for the summer.
Friday 6th July 09:30-12:30 Kendal WWTW  ***Change of Venue***
Continuing work to clear the balsam from around the Waste Water Treatment Works south of Kendal. Major works for the past 18 moths have prevented any movement in the area, so the balsam has really got hold and there is lots to tackle. To meet on the corner of Bellingham Road and Wattsfield Road Kendal. Grid reference- SD514910
Tuesday 10th July  9.30 – 12.30pm Grayrigg, Lambrigg Beck
To tackle the infestation of this beck which is a tributary of the River Mint. Meet at the broken bridge (where the road is closed) south of the Lambrigg Beck to park just north of Hardrigg at the railway line OS ref 585 962, where there is parking.  If anyone is uncertain about finding this, Mary Chapman will be at Morrison's car park at the recycling point at 9am to lead the way. It is easy to get lost on the narrow roads around Lambrigg.
Friday 13th July 09:30-12:30 Heaning near Ings
Additional work taking place in this area just off the Dales Way north of Ings. To meet at Heaning, grid reference SD431991 and you can park on the concrete area in front of the sheds belonging to Windermere Lakes Cruises.  Easiest to take the back road from Ings to Troutbeck, taking the first left, signed Heaning about 1.2km up from the A591 turn off at Ings.
Please note that it is hot work in these temperatures so volunteers should bring sun hats and plenty of water to drink.