Trustees and staff at South Cumbria Rivers Trust would like to wish you all a very Merry Christmas and a Happy New Year.
Thank you to all the volunteers who worked with us throughout the year, for your ongoing and unwavering support, especially during these difficult times. We will be back in 2022 to help drive further local improvements to our watercourses for the benefit of people and wildlife.
Look out for some exciting opportunities to help plant some reedbeds around Windemere, learn how to riverfly sample and other various habitat improvement works coming in 2022. Let us know if you wish to get involved by e-mailing info@scrt.co.uk or sign up to our mailing list via the website.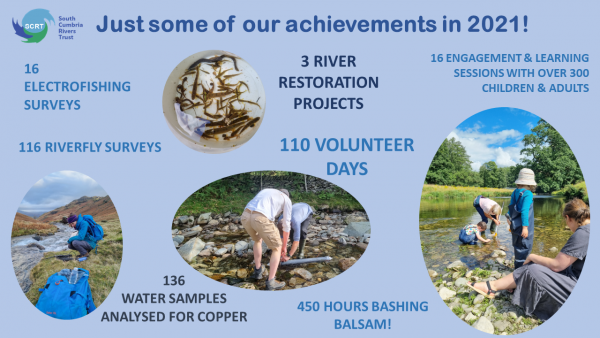 You can find out more about what we have done in 2021 by visiting our projects pages; www.scrt.co.uk/what-we-do/current-projects