Elterwater Paleo Channel Re-connection
We are working to re-connect Great Langdale Beck via its paleo-channel into the middle basin of Elterwater. Elterwater is a three-basin system which has historic water quality issues.
During summer 2020 we have funding under the Water Environment Grant to undertake this project. Historic maps, shown in Figure 1, indicate the original, natural course of Great Langdale Beck into middle basin. During the early 1900's these channels were diverted into a straightened channel, which now bypasses middle basin and goes straight into outer basin. Our proposals are based on these maps with the aim of restoring the connection to middle basin via two 'high flow' channels. This will transfer clean, well-oxygenated water back into middle basin, benefiting the water quality of the lake.
In developing these proposals we have worked collaboratively with the Environment Agency hydro-geomorphology team, Natural England and the National Trust. The project has been designed to enhance environmental benefit without risk of flooding, changes to water levels or risk to public amenities.
Historic maps show that Great Langdale Beck we realigned sometime between 1920 and 1956 (Figure 1). This involved straightening the channel and diverting it east, so that it drains straight into the outer basin rather than the middle basin of Elterwater. Consequently, the river in this location is showing signs of rapid change as the river's energy works to return it to its previous path. This is evident in the picture below, where gravel deposits are being forced up the bank and through the woodland.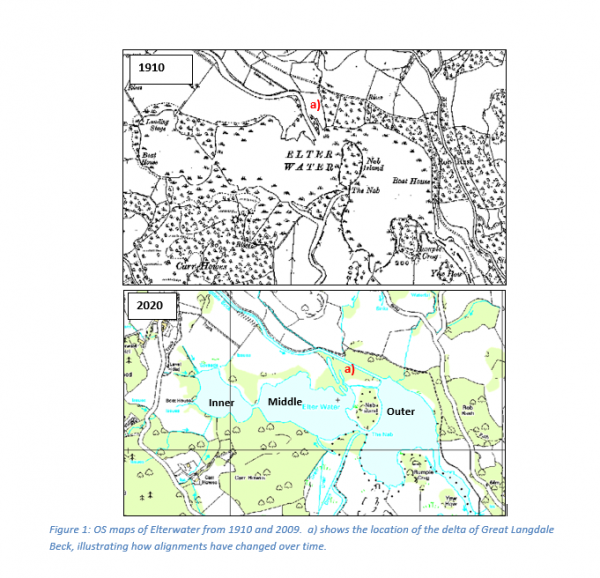 During high flows it is evident that the river is regularly using the route through the woodland to middle basin. The proposal is to formalise this, creating a shallow scrape to provide an additional flow route during storm events; to provide the greatest benefits a dynamic, meandering channel will be allowed to naturally evolve over time. In addition to this there is an existing revetted channel through the woodland which is currently blocked off by a bund. This bund will be lowered to allow the river to once again use this channel during high flows.
The existing channel of Great Langdale Beck will be left in place. However, the habitat and value of this straightened reach will be enhanced with the addition of woody debris which will provide a refuge for fish and invertebrates, benefitting local bird populations.
If you would like to find out more about the project, we will be holding a drop-in session will be held on 7th April at Langdale Village Hall from 4pm-6pm.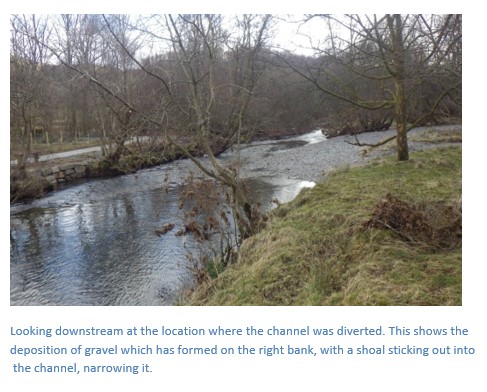 This project is funded under the Water Environment Grant via the European Agricultural Fund for Rural Development.
The European Agricultural Fund for Rural Development: Europe investing in rural areas