SCRT have just finished another Natural Flood Management (NFM) project at Colthouse beck near Hawkshead.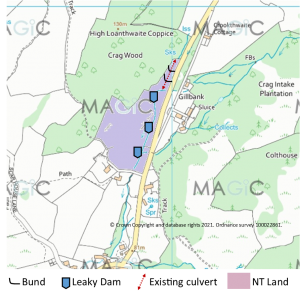 The project, funded by Cumbria County Council is a collaborative project with SCRT as project lead, National Trust as the landowners, contractors Catchment Designs Ltd and the Enviornment Agency.
The works that are being carried out include:
1) the de-culverting of the existing stone-walled culvert at the top of the site,
2) the creation of a re-profiled open watercourse channel,
3) the creation of two bunds and three leaky dams using natural materials (earth and timber), to temporarily store and attenuate peak flows from the watercourse during storm events,
4) the construction of two formal headwalls and adjustable plates to collect and enable 3).
The project will serve multiple purposes, including i) restoration of a watercourse, ii) researching the effectiveness of NFM techniques, iii) testing the viability of using NFM techniques in World Heritage areas, iv) reducing the peak flow during targeted storm events, v) providing a public demonstration of NFM.
Want to know more about NFM? You can find out more here: Natural Flood Management Page
After completing the leaky dams, they are already having the desired effect: Catchment Designs twitter post here