Here at South Cumbria Rivers Trust we love our rivers. But what makes you love your river?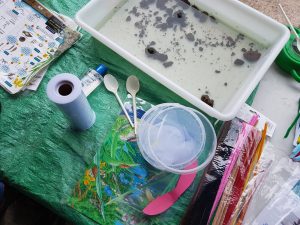 We have teamed up with Ragtag Arts and Community Scrapstore, who are running this years 'mini' Torchlight Festival in Kendal, to create a Love my River section in this years parade. We are running two river dipping and craft events for families and people interested in river heath, river wildlife and river leisure to help us share our love of all things rivers and make something for the procession. The events are on Thursday 10th and Thursday 17th September, starting at 4pm. Take a look at our Eventbrite page, if you wish to book onto one of the free events.
If you don't wish to come to an event, how about making something from home? For a small donation, you can get kits from RagTag Arts at the Scrapstore or from their market stall every Saturday in Kendal. Your creations will then be part of the virtual film depicting this year's tiny Torchlight procession, available for everyone to see online. You just need to get your characters in by Saturday 19th September 2020!
But how do you go about depicting what you love about a river? 

We want characters! Whether that be people or animals they need to be linked the theme of Love my River. Here are some ideas for you, just to get started.
ENJOY
What things can you do on a river?
Many people use the river for various activities, including; fishing, kayaking, swimming or even taking a gentle stroll near by. Whatever the activity, the river creates an ideal oasis that not only provides an excellent opportunity for physical exercise but also boosts your mental health and wellbeing.
Think about what you love to do on or at your local river and take it from there. Perhaps you could make a mini you in a canoe?
NATURE
There is no doubt that rivers provide invaluable habitat from an array of species. Whether it be birds, fish, plants or even mini-beasts, this delicate ecosystem allows all these creatures to live side by side. As freshwater species continue to decline, it is more vital than ever that we look after our rivers to help rebuild their home and improve biodiversity. What do you like spotting when you're near a river? A kingfisher, an otter, a salmon? Why not trying making your favourite river creature for the parade.
PROTECT
Pollution is having a major impact on our rivers. You have all seen the devastating pictures of plastic in our oceans but what about in our rivers too? Or what about other types of pollution? Septic tanks, agricultural and commercial waste as well as invasive species also pollute our rivers and impact water quality. We need to protect rivers from chocking on our waste, otherwise we won't have things like enjoyment or the nature in the future.  Do you want to be a river protector? Think of ways we can stop pollution and try and depict that as best you can.
For more inspiration or to get your own packs, visit the torchlight Facebook page for more information: https://www.facebook.com/kendal.torchlight
Tesco Bags of Help have funded the Love my River – Pass on Plastic project, aimed at supporting school groups and local volunteers to tackle the plastic pollution problem along the waterways of Cumbria and Lancashire. The 'mini' torchlight provides us with an ideal platform to share our work, the issues arising in our waterways and what we can do to tackle them.